Posted on Apr 2nd, 2006 in
Portfolio Performance
|
1 comment
The net asset value for Moose Pond Investors increased +4.1% in the first quarter of 2006. Unit price is up from $13.10 to $13.65. All of the major indices are up as well: the Dow +3.7%, the Nasdaq +6.1%, the S&P 500 +3.7%, and the Russell 2000 +13.7%. See quarterly performance report.
The portfolio summary on this web site has been updated through March 31. (You can find the portfolio snapshot the "Portfolio Summary" section in left side column.) Also, the stock selection guides linked to the portfolio summary has been updated so you can see how we computed projected average return.
Winner and Losers. Winners for the quarter were: Jack Henry & Associates (JKHY) +27.2%, Johnson & Johnson (JNJ) +20.1%, and Occidental Petroleum (OXY) +16.5%. Losers were: UTStarcom (UTSI) -22.0%, Intel (INTC) -21.7, and Amgen (AMGN) -7.8%. Fortunately the winners outflanked the losers and the net gain for the quarter was $1,260.
Transactions. During the quarter, we purchased new positions in Illinois Tool Works (ITW) and Stryker (SYK). We also added to our position on Intel (INTC). We have continued to reinvest dividends as we receive them.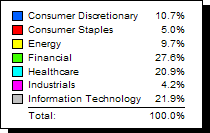 Diversification. Our holdings are spread across six sectors. The financial services sector (27%) remains our largest sector holding, with technology (21.9%) and healthcare (20.9%) the next largest. See diversification report.
The Way Ahead. We currently have 26 companies in our portfolio. We only need 17 or so to achieve diversification of nonsystematic risk. Nonsystematic risk results from the volatility of the prices of individual companies. Systematic risk comes from volatility of the overall market (e.g., movement of the market — all or most stocks — as a whole). We can't diversify for that risk within the portfolio. Some people address systemic risk through asset allocation, i.e., investing in various asset classes. Quality growth stocks might be one such class. This gives us the flexibility to reduce the number of companies, without harming our overall diversification.
Looking at the projected average return (PAR) and the current P/E ratios for the companies listed in the portfolio summary, Brown & Brown (BRO) and Cardinal Health (CAH) appear to be candidates for replacement. Patterson Companies (PDCO) also is a possible candidate for replacement.