Posted on Aug 6th, 2008 in
Stock Commentary
It is always interesting to watch the market reaction to quarterly earnings reports.  Small variances between reported earnings and analyst expectations, especially in growth stocks, frequently result in sharp price fluctuations.  More often than not, the change in price has nothing to do with the underlying business model of the company.  A case in point is Sun Hydraulics, one of our holdings.
Sun Hydraulics Corp., SNHY, reported Q2 (June) earnings of $0.54 per share, $0.04 better than the First Call consensus of $0.50.  Quarterly revenues rose 18.8% year over year to $51.6M vs. the $51.4M analyst consensus.  (Q3 earnings press release.)
However, the company reduced its outlook for Q3, projecting EPS of $0.35-0.37 which is slightly lower than the $0.42 analyst consensus.  The company also projected Q3 revenues of $45M which is slightly lower than $47.93M analysis consensus.  Here is the company's statement regarding Q3.
"Sun's products are used in diversified equipment markets around the globe," stated Carlson. "Many of these markets, such as mining and energy, remain strong and demand is high.  In other more obvious markets, such as equipment used in residential and commercial construction, we have begun to see some softening."

"The diversity of our end markets, both geographically and the segments we participate in, is pivotal to maintaining our growth," concluded Carlson.

2008 third quarter sales are estimated to be approximately $45 million, a 9% increase over last year. Third quarter earnings per share are estimated to be between $0.35 and $0.37 per share, compared to $0.32 per share last year.  EPS estimates for the third quarter include a charge of $775K for U.S. income taxes due on the repatriation of $6 million from Sun Germany in July 2008.
This slightly reduced guidance caused the stock to drop 11.24% on August 5 after it announced its earnings.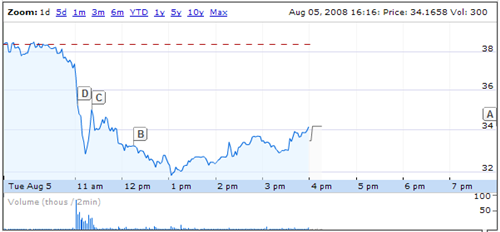 Here is an updated stock selection guide that incorporates the Q3 data.  It use a conservative estimated of 18% for revenue and sales growth.  It also uses a conservative 5-year average average P/E of 16.9.  The SSG still shows a projected average return of 13.7%.  The fundamental business model of the company has not changed.  It is still a strong hold.  Despite teh drop in price yesterday, we have a 17.2% annualized return on SNHY.