Posted on Dec 22nd, 2012 in
Stock Commentary
|
Comments Off

on Are We Diversified?
Are we diversified? The answer is mostly yes. It depends on how you define diversification.
We are reasonably well diversified among the industrial sectors. The following summary from MorningStar X-ray compares our portfolio holdings with the S&P 500.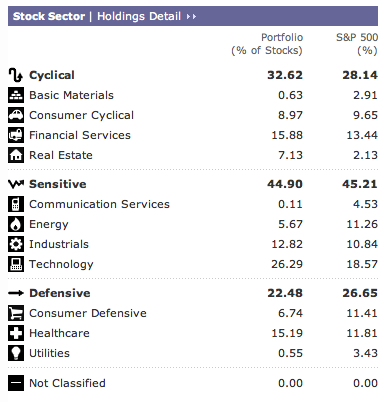 In terms of company size (market capitalization), we are 71% large-cap, 10% mid-cap, and 19% small-cap. In growth vs. value, we are 27% growth, 29% value, and 44% core or blend. Our large-cap holdings lean toward value while our small cap holdings lean toward growth.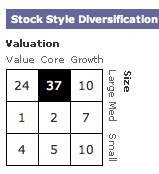 We do have 6% of our portfolio in a real estate investment trust ETF (VNQ). This provides some diversification among asset classes. The only international exposure we have is for those US companies in our portfolio that do business overseas.
To sum it up, we are fairly well diversified among US stocks. We could stand to have a little more mid-cap and small-cap representation in the portfolio. We also could have more international equity exposure. This is probably best done through an index ETF.